He has been compared to Bjarne Melgaard and Edvard Munch; people stand in line for hours when he has exhibitions. Now he has created a work of art that will adorn the Norwegian Festival of Literature's poster and program booklet for 2023.
During the festival, he will exhibit at Gallery Zink, and the festival artwork will be part of the exhibition.
"The work is a 2-metre-wide and 1.4-metre-high charcoal drawing that shows my late mother smoking a cigarette in a deserted and remote birthday celebration for Fattighuset, an aid organisation from which we occasionally got much of our food," says Torgersen.
"The exhibition in May will include this drawing, as well as other new paintings, sculptures, text, drawings and more," he continues.
Collaboration between festival and gallery
Festival Director Marit Borkenhagen is very pleased with this year's festival artist:
– It is excellent to have Nikolai Torgersen at the Norwegian Festival of Literature next year. We look forward to seeing his exhibition here in Lillehammer and experiencing him on stage in conversation with relevant authors. We are pleased with the good collaboration with Galleri Zink, which has contributed to Torgersen now becoming a festival artist, says Borkenhagen.
First time at the Norwegian Festival of Literature
The artist is looking forward to being part of the festival in May.
­–It is always exciting to exhibit in new cities and for a new audience; this time, it may also be a very different audience. I have not been to the festival before, but the list of artists who have been festival artists in previous years is full of big names, so I am happy to be next in line, says Nikolai Torgersen.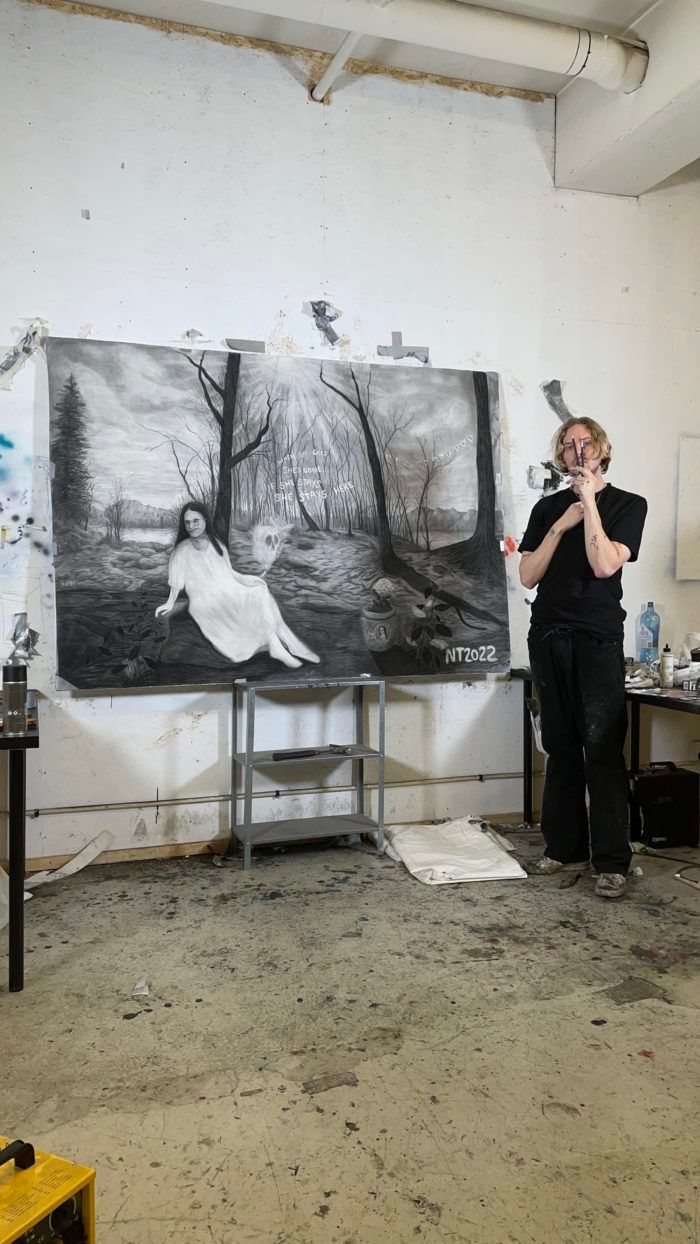 Life in art and literature
For Torgersen, literature has served as a gateway to topics that interest him in life and art.
"Life and art are (and should be) one and the same thing. My working method is almost always to address one (or more) topics I am interested in understanding more of, deconstructing to find out what I want to get out of it, and then finally what tools and methods (drawing? sculpture? text? painting?) that I think will tell the stories best, Torgersen says.
"Lately, the books by Edouard Louis and Annie Ernaux, among others, have helped me on my way to contextualizing and deconstructing my own upbringing and poverty, social class structures and the never-ending project of trying to understand why you are the way you are.
Nikolai Torgersen almost always works in series, where the works can give each other context and form a narrative with roots in the artist's life.
"For the past two years, most of it has been about my childhood, growing up, death, trauma and how that destructive life with a lot of intoxication and escapism has affected my perception of reality. I'm trying to move a little further from that now. There are still overlapping themes since everything is rooted in my own life, but the topic will shift more towards society, drug policy, social classes/hierarchies, and money. A lot of symbolism to understand and describe how much of my hatred and shame came from and what my motivation is for doing all of this in the first place.
The details of Torgersen's participation in the festival will be announced at the program release on Tuesday 28 March. The Norwegian Festival of Literature 2023 will take place in Lillehammer from 22 to 28 May.